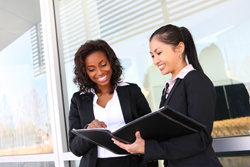 Did you know that young career women are part of the largest generation in the workforce today? While companies are looking for ways to attract, nurture, train and retain millennials, studies show they are three times more likely than other groups to change jobs, often choosing a better work environment over salary. More than any other generation, millennials want opportunities to learn and grow, to design their own career path, to be entrepreneurial, and to make difference.
If you're a woman who wants to successfully navigate the first five years of your career, join us for this engaging afternoon of speakers, panel discussions, personal mentoring and interactive coaching where you'll learn how to:
Clarify career goals and expectations
Create an actionable career plan
Showcase your personal brand
Sharpen your communication and networking skills
This event is hosted by Professional BusinessWomen of California & Bank of the West, and open to early career women in all companies and industries. Light snacks and beverages will be served.
Date: August 1, 2018
Time: 2pm-5:30pm (doors open at 1:30pm for registration and networking)
Location: Roadhouse Market & Conference Center, 2600 Camino Ramon, San Ramon, CA 94583
Investment: $49*
We are also offering a 1-year PBWC general membership and YWPS ticket package for the discounted rate of $149.  Receive PBWC membership benefits such as webinars, complimentary Community and Member Event tickets, conference benefits, and more!  Visit pbwc.org/join for more details.
Register: https://pbwcywps.eventbrite.com
Denise Herrick: Denise Herrick brings over 20 years of combined experience in leadership development, executive coaching, organizational development, and progressive human resources management. She joined Bank of the West in 2013 to design and run the organization's leadership development programs. Denise holds a Bachelor in Psychology and Masters in Human Resource Management from Michigan State University. She has held leadership roles within HR  AT&T, LSI Logic, and Panasas, Inc.
Maile Collmer: Maile Collmer is a professional speaker and business consultant with Asentiv® Contra Costa. Her specialty is teaching entrepreneurs and sales teams how to build relationships that bring them a consistent and predictable stream of referrals to their ideal clients. Maile is known for delivering high value content with practical application. She says, when you have the right relationships your network will get you in front of opportunities that surpass your goals to deliver your dreams!
Carrie LaShell: Carrie LaShell, owner of Such Savvy Style and Carrie LaShell Consulting, is a Certified Image Consultant and the author of the #1 International bestselling book, The Outside/Inside Magic of a Great Image. She specializes in the ABC's of image: Appearance, Behavior, and Communication — working with both individuals and companies. Carrie is past President of AICI (Association of Image Consultants International). She is a Certified Image Consultant through the Stoltz Image Institute and Style for Hire with Stacy London. She has appeared on numerous TV shows on NBC, ABC, CBS, FOX, and the CW to discuss style and image tips.
---
YWPS Documents
Click here for the program, speaker bios, and more
About PBWC
PBWC provides skill development and networking opportunities as well as the inspiration and motivation to encourage women at all levels to achieve their ambitions and work toward gender equity in professional settings. Founded by Congresswoman Jackie Speier with 29 years of continuous service, PBWC is California's premier organization for professional women.