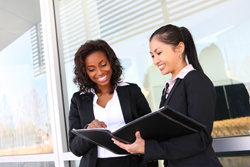 Did you know that young career women are part of the largest generation in the workforce today? While companies are looking for ways to attract, nurture, train and retain millennials, studies show they are three times more likely than other groups to change jobs, often choosing a better work environment over salary. More than any other generation, millennials want opportunities to learn and grow, to design their own career path, to be entrepreneurial, and to make difference.
If you're a woman who wants to successfully navigate the first five years of your career, join us for this engaging afternoon of speakers, panel discussions, personal mentoring and interactive coaching where you'll learn how to:
Clarify career goals and expectations
Create an actionable career plan
Showcase your personal brand and LinkedIn profile
Sharpen your communication skills
This event is hosted by Professional BusinessWomen of California & Microsoft, and open to early career women in all companies and industries. Light snacks and beverages will be served.
Date: November 7, 2016
Time: 2pm-5pm
Location: Microsoft, 1065 La Avenida, Mt. View, CA 94043
Investment: $49*
We are also offering a 1-year PBWC general membership and YWPS ticket package for the discounted rate of $149.  Receive PBWC membership benefits such as webinars, complimentary Community and Member Event tickets, conference benefits, and more!  Visit pbwc.org/join for more details.
Register: https://pbwcywps.eventbrite.com
Lisa Askins: The entrepreneurial spirit is in Lisa's blood, having been raised in a family of entrepreneurs. With the founding of her learning and development companies, she has returned to her roots. Her passion is to help individuals discover and develop their ability to communicate authentically.
Connie Chan Wang: Connie loves connecting people – to each other, to ideas, to opportunities – especially when these connections result in a positive change. She is the Head of Social Media & Content Marketing, Member Marketing & Communications at LinkedIn, and the Chairperson of the Board of LinkedIn for Good for Employees.
Karen Baker: California Volunteers
Safiya Miller: Safiya brings global sales experience from the finance and technology industry to her role as a Microsoft Account Executive for Adventist Health, Blue Shield of California and Veritas. She is an optimist, stylist, Zumba enthusiast and foodie who loves exploring new cultures and dishes through travel. Inspired and excited, she is excited to be joining today's panel.
About PBWC
PBWC provides skill development and networking opportunities as well as the inspiration and motivation to encourage women at all levels to achieve their ambitions and work toward gender equity in professional settings. Founded by Congresswoman Jackie Speier with 25-years of continuous service, PBWC is California's premier organization for professional women.
Our Young Women's Professional Summit Sponsors