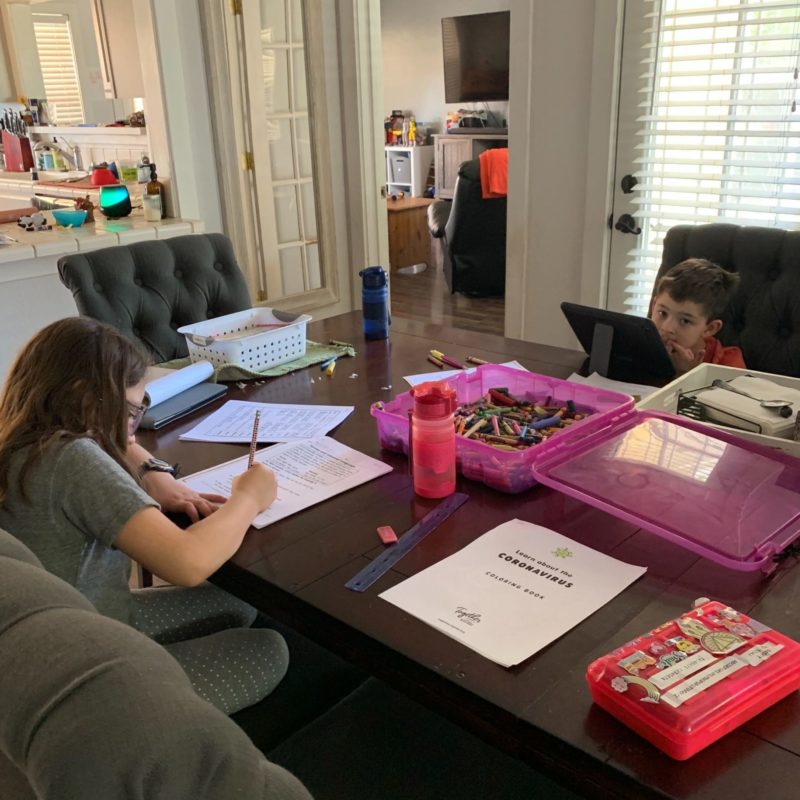 14 Apr

5 Helpful Tips for Working Remote with School-Aged Children at Home

By Elizabeth Tunquist, Operations Director, PBWC

My home, once a calm and pleasant work space, is now a busy and bustling office that I share with my three kids, who each have schoolwork packets to complete and occasional Zoom meetings to attend. After working from home for over a decade, sheltering in place with my family of five has uprooted my everyday routine. But now that we have a solid four weeks under our belts, I've learned what's making the adjustment easier.

Here are five tips to help manage life as a full-time employee, while supporting your children though distance learning:

1. Be open with your boss and co-workers about your personal circumstances

There was a time when I thought my child talking to me mid-conference call or a dog yawning loudly in the background (both have actually happened) was the most mortifying experience possible.

Flash forward to today, and scenarios like these are happening everywhere and to everyone, including journalists and experts on live television. But there's definitely solace in knowing that we're all in this together. When there is literally nowhere else to go, managers and colleagues will be understanding and show compassion for each worker's unique situation—and there's a good chance they can relate.

2. Establish a routine (but be kind to yourself and others when it's not perfect)

Before our first official week of quarantine, I created a kids' schedule to build structure around their days and mine. I included reminders for their typical morning routine (breakfast, getting dressed and brushing teeth), time for schoolwork in hour-long blocks, free play with and without screens and outdoor play. I also mapped out how my day would align with theirs so that I can make myself available when they would need support.

While juggling work, the important takeaway isn't to follow the schedule to the minute, but to set practices for the day that become second-nature to your family. For example, every day around 9:30 am, the kids start their schoolwork.

With that said, have compassion for yourself, your partner, your kids and your colleagues if things don't go perfectly. Whether one or multiple kids are having meltdowns or it's a day when you're just feeling "off," every day presents a different challenge. Be flexible, make room for what doesn't go your way and give yourself credit for getting through what does.

3. Use your calendar and prepare for your day

Switching between your roles as an employee, interim teacher and parent is challenging, but blocking time off in your calendar for meals and/or activities that require parent-supervision will mentally prepare you for a constant shifting of roles and informs colleagues of your availability.

Additionally, waking up an hour or more before everyone else in your home to identify not only what's on your to-do list but also that of your family, aids in planning for each day. During this uninterrupted time, you can make a to-do list and take a moment for yourself before the house is busy again. Alternatively, this prep may be done at night after everyone's in bed. Make it work for you.

4. Find your workspace

What makes working from home complicated is that there are no physical boundaries between where you work and your family. Emails and conference calls occur in close proximity to where your child is watching a video about how the earth' surface changes with wind and water.

Yet, everyone needs a personal work space, even a small one. Most employees have their own desk or cubicle in the office, and working from home should be no different. Find an area in your home that feels comfortable and create a makeshift office space that fits all your work needs, from answering emails to taking calls.

Similarly, each child should have their own personal space for completing schoolwork, which could be as simple as a desk in their bedroom for the more independent or a seat at the dinner table for those requiring more supervision. My second grader loved making desk nametags for everyone to add a classroom touch.

5. Take breaks and prioritize sleep

Regardless of what the workload looks like for you and your family, we must find time for breaks. Finding opportunities to distance ourselves from our computers and our families is vital to our health, wellbeing and stability.

So, what does "distance" look like? It could be taking 5 – 10 minutes to get some fresh air; reading a book or listening to your favorite podcast; completing a virtual workout; or, now would be a great time to start a journal. Schedule the break on your calendar and do your best to avoid screens, especially your laptop or PC, so that you can truly relax.

Above all, get at least 7 hours of sleep to help with your mood, energy, physical health and ability to focus throughout the day. And don't forget, kids are feeling the stress and anxiety around these changes—they need breaks and a good night's rest too.

Although creating structure and routine amidst the chaos has been a helpful approach, what's kept me sane is being flexible. As much as we plan, the variable of having children at home all day every day means that we need to leave room for uncertainty. Being able to adapt not only relieves the need for perfection, but it gives us permission be human. Remember to create an open line of communication with your employer and colleagues—and even more importantly, take advantage of the extra time you have with your family, making this a positive memory to look back on.