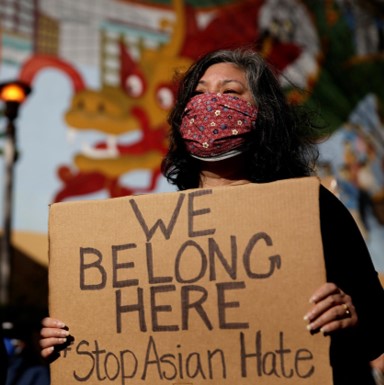 20 Mar

#StopAsianHate Now

Dear Cherished PBWC Community, 

For lives lost and families shattered: We weep. We mourn. And we say, "No more." 

Daoyou Feng (44)

Delaina Ashley Yaun (33)

Hyun Jung Grant (51)

Paul Andre Michels (54)

Soon C. Park (74)

Suncha Kim (69)

Xiaojie Tan (49)

Yong A. Yue (63)

Six were Asian. Six were women. All lost their lives.

As an organization that stands strong against sexism, racism, xenophobia, homophobia and able-ism, we are stunned and shattered by the events in Atlanta. 

And we see them as part of a troubling pattern. According to the Center for the Study of Hate & Extremism at California State University, San Bernardino, anti-Asian hate crimes in 16 of America's largest cities increased almost 150% in 2020.

We condemn these acts of violence. And we condemn language and behaviors that demean or devalue others based on race, ethnicity, gender, religion, ability or sexual orientation. 

As we extend our full-hearted condolences to the families of those who lost their lives, we encourage each of you to speak up, speak out and IgniteCHANGE. 
Donate to organizations working to combat anti-Asian violence. 

Be a chaperone, ensuring physical safety for members of the Asian-American community. 

Use your voice and your privilege. If you see something, say something.
When acts of violence and words of hate escalate, we must lift our voices stronger, apply our energies more forcefully, and come together as a community of professional women, working to be the change we want to see in the world.  
To our Asian American colleagues, friends and family: We hear you. We see you. We stand with you. 
Stop the hurtful rhetoric. Stop the violence. #StopAsianHate. 
With love,
PBWC Board of Directors and Management Team